Click a category to learn the facts.
Get educated and stand for truth and love.
WE ARE THE FIRST GENERATION IN THE HISTORY OF THE WORLD TO FACE THE ISSUE OF PORNOGRAPHY TO THIS INTENSITY AND SCALE. WE'RE ALSO THE FIRST GENERATION WITH A SCIENTIFIC, FACT-BASED UNDERSTANDING OF THE HARM PORNOGRAPHY CAN DO.
You are not alone. Get help and take back your life.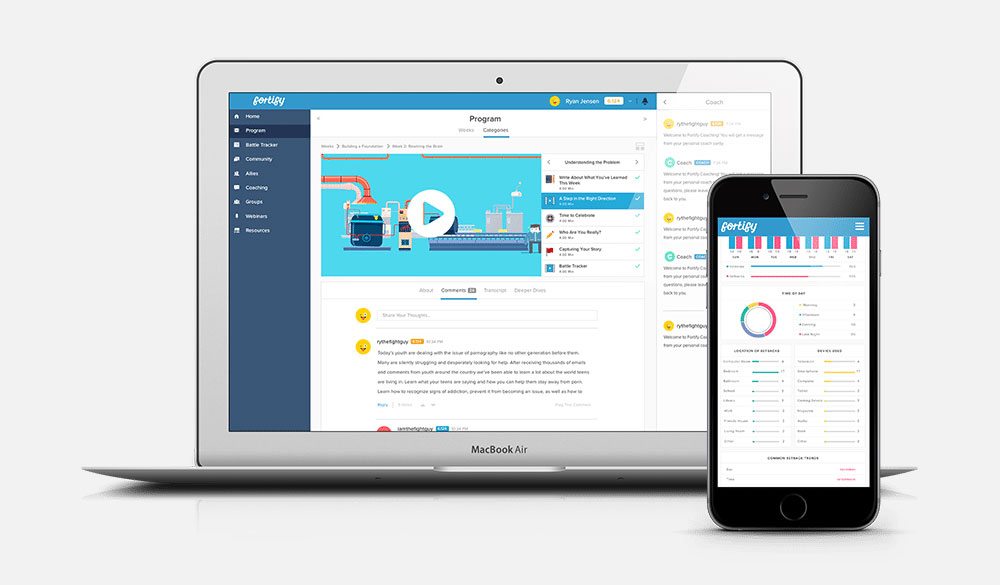 Fortify is a web-based program of short video lessons and activities designed to educate and empower individuals seeking to find freedom from pornography. The program was developed by a team of professionals including psychologists, neurologists, therapists and other mental health experts.
FORTIFY IS FREE FOR TEENS
The Fortify Program is currently only available in English.
Are you with us? Join the fight.
"I have joined an army of determined individuals fighting for love and dedicated to helping others understand how pornography is affecting their lives."

STRONG
"I will respect the points of view of others just as I expect the same for my own."

OPEN-MINDED
"I will respectfully promote my opinions and in the end allow others to choose for themselves."

ACCEPTING
"I will immerse myself in the pursuit of real relationships and avoid their hollow counterfeits."

A TRUE LOVER
"I will speak openly and raise awareness about the effects of pornography and the value of happy, healthy relationships."

BOLD
"I am willing to challenge the status quo. I will do what needs to be done and say what needs to be said regardless of what is popular."

A REBEL
"I am confident enough in myself to be genuine and will avoid false imitations or masked presentations."

REAL
"I am aware of the difficulty some may face in ridding their lives of pornography. I will show patience & compassion in ways that help relieve shame."

UNDERSTANDING
"I am committed to helping others find and keep love in their lives and help those in need."

ENCOURAGING
Sign the pledge. Join the movement.
[gravityform id="3″ title="false" description="false" tabindex="49″]
By submitting above you agree to the Fight the New Drug Privacy Policy.